---
Powered by Play: A Campaign for The Strong
---
The Strong's state-of-the-art expansion will house all-new, interactive exhibits—connecting guests with the history of play and with each other. We need your support to make it happen.
Your gift is an investment in the lives of millions of children and families who play, learn, and grow at The Strong—today and for years to come.
The heart of the all-new Neighborhood of Play will be The Strong's 90,000-square-foot expansion which will house state-of-the-art guest amenities and a 24,000-square-foot interactive gallery, ESL Federal Credit Union Digital Worlds.
After the expansion opens in 2023, The Strong's annual attendance is projected to grow from 600,000 to nearly 1 million visitors per year. The new first-floor admissions center will welcome children, families, and other visitors from around the globe.
Upstairs, the ESL Federal Credit Union Digital Worlds gallery will feature new exhibits and experiences. Digital Worlds: High Score will house the World Video Game Hall of Fame, which will highlight iconic games and trailblazers who changed how we play.
Digital Worlds: Level Up will allow guests to become the main character in a life-sized video game.
A new Play Lab, which opened in April 2022, will host interactive workshops, classes, and activities that encourage guests to explore messy play, tinkering, technology, inventing, mechanics, and more.
The existing museum atrium has been renovated to include a soaring high-adventure ropes course that provides challenging, yet safe, physical play.
Outside, a 17,000-square-foot, board-game-themed play garden will encourage physical and collaborative play among guests of all ages and abilities. Developed in partnership with Hasbro, the new outdoor exhibit will celebrate classic tabletop games that shaped how we play, from Monopoly to Candyland, Simon, and Dungeons & Dragons.
Completed in January 2022, a larger and newly renovated Woodbury School allows for more students, new programs, and additional play-based professional development opportunities for districts across the region.
The expansion will also add new, state-of-the-art digital preservation labs and additional climate-controlled storage space, allowing The Strong to further grow the world's largest collection of toys, video games, and other play-related materials, now 515,000+ items.
Recent Museum News and Press
Find the latest news about the Powered by Play: A Campaign for The Strong.
View All News
Museum News
The Strong is climbing into the realm of adventure play and building an all-new high ropes course—Skyline Climb—slated to open November 26, 2021.
Continue Reading
Museum News
The Kilian J. and Caroline F. Schmitt Foundation donate $100,000 to Powered by Play: A Campaign for The Strong to help build three specially designed video game preservation labs as part of the […]
Continue Reading
---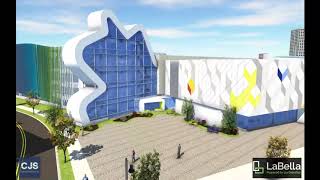 Watch to see the future museum expansion and Neighborhood of Play.
---
Powered by Play: A New Neighborhood and a Bigger Museum
The Strong's expansion is the driving force behind the Neighborhood of Play—a new, vibrant, walkable neighborhood, revitalizing the downtown area that surrounds The Strong. With The Strong as its centerpiece, the new neighborhood will generate $130 million in annual tourism revenue for Rochester and will include:
The Strong National Museum of Play's existing 285,000 sq. ft. of exhibits and educational, play-based experiences—plus a new 90,000 sq. ft. expansion housing innovative exhibits and experiences, including the World Video Game Hall of Fame
A national, family-friendly hotel operated by Indus Hospitality Group
Market-rent housing and a mix of retail businesses operated by Konar Properties
A colorful parking garage with ample covered spaces for visitors (now complete and open to the public!)
To fund this transformational project, The Strong has launched Powered by Play: A Campaign for The Strong. With a goal of raising $60 million, The Strong will need help from its supporters to build a bigger and better museum, preserve the history of play, promote the educational power of play, and bring joy to millions of children and families.

A non-profit educational museum, The Strong needs you—members, friends, and leaders in the toy and video game industries—to help make this transformational expansion a reality.
To learn more or support the campaign, contact Lisa Feinstein, 585-410-6370, lfeinstein@museumofplay.org
For media inquiries, contact Shane Rhinewald, 585-410-6365, srhinewald@museumofplay.org
The Strong's expansion is only possible with the support of individual donors, corporations and other organizations, foundations, and government funders. The Strong is a 501(c)3 not-for-profit.
Ways to Give
Your gift to Powered by Play: A Campaign for The Strong is an investment in the lives of the millions of children and families who play, learn, and grow at The Strong National Museum of Play—today and for years to come. There are many ways to make an impact:
Capital Gifts
Both individuals and organizations can support the development and construction of the expansion project. Capital gifts directly support the building of the 90,000 sq. ft. museum expansion, new exhibits, and necessary renovations to the existing museum building.
Naming Opportunities
Your investment in The Strong can recognize or honor your family, an individual, or an organization by naming spaces—such as classrooms or exhibit galleries—in the expansion. Donors can also name programmatic initiatives, such as staff leadership positions, community outreach programs, or collections and conservation funds.
Sponsorships and Partnerships
Through sponsorships and partnerships, businesses and other organizations provide critical funding for targeted programs and exhibits. Sponsor organizations receive employee benefits and visibility amongst broad on-site and online audiences.
Annual Giving and Unrestricted Multi-Year Commitments
Annual Giving and unrestricted multi-year commitments allow The Strong to make immediate investments in play-based programs and outreach. Through a repeatable annual gift or a multi-year commitment, you provide critical support for high-impact programs.
Planned Giving
Estate and planned gifts secure your legacy and the future of the museum. Donors who commit to a planned gift become members of The Strong's Woodbury Society. Learn more about planned giving at The Strong.
Contact Us
Gifts of all types and sizes are welcome and help support The Strong's play-based educational mission. To learn more, contact The Strong's Institutional Advancement team at 585-410-6346 or advancement@museumofplay.org.
---
---
Make a Donation Today
Become a champion for play and help make a difference in the lives of the children and families who play, learn, and grow with The Strong.